I wasn't lying when I said I was going to sleep all month! hahaha I haven't been out to run since the 11.35km Tuesday. And honestly, I'm good. I'll get back to the grind tomorrow, promise! I only have two appointments....
Today it's been a week since my family stuck their giant noses up in my business and challenged me to finish my 100km in a month and go the 14 days eating properly (for me). And I did the first one, so...now I HAVE to finish the second one.
Well, as on every July 5th, it's my dad's birthday. Which means cake. And ice cream.
Which is fine because, generally, I don't even like cake. I eat it because you're supposed to eat it on special occasions and people go through the trouble of baking these stupid sugar-sponge-bread-hybrid things and it's just... it's just what you do.
Also....ICING. I LOOOOOOOOVE icing. If you're ever with me when I eat cake you'll notice I tend to eat all the [gross] cake crap first and then swirl my icing around in a lovely little spinny-design on my plate and then om nom nom nom...
So, you'd think that turning my nose up at cake on my dad's birthday wouldn't be all that big of a deal.
Right?
WRONG.
There's this cake. It comes from Heather's Bakery. It is AMAZING. It's.....just.....it's cake, but it's.... it's SO GOOD.
And don't even get me started on the icing. OH. MY. GOODNESS. THE ICING.
This is what we get when we have birthdays. We get a Heather's cake. And we gorge ourselves on the incredible edible delight that is Heather's cake. With icing. Which I still eat last.
Today was Dad's birthday.
there was a Heather's cake.
.........
........I didn't have ANY.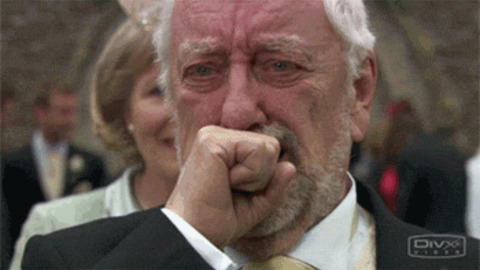 (Wilf knows)
Mom said she'd save a piece and put it in the freezer. I'm suspicious that it won't taste as good after it's defrosted, but YOU GUYS. I DIDN'T EAT THE CAKE.
Do you know WHY this is such a big deal??
In the last 2.5 years every time I try to "reset" my brain and my tummy and get myself back on track (remember, I told you - I don't do this moderation crap. It's all or absolutely NOTHING. I'm too disordered to take it slow or whatever - I just sabotage and sabotage and sabotage myself) and I start my 14-day, uh, goal - just do it for 14 days and you can do anything - I get a few days in, see some progress, and then PARTY TIME! LET US EAT CAKE!!
ALL THE CAKE!
I lose a couple of pounds, and say, SWEET! It WORKS! And then eat all the things. With the intention of not ALWAYS eating all the the things....but you know what they say about good intentions...
So EVEN THOUGH this morning I was FINALLY seeing the significant changes I expect when I'm working hard (I wore a dress to church I couldn't zip up a couple of weeks ago, NO lie!! WOOT! Oh yeah, plus I'm under 200lbs with some wiggle room..... WOOOOOOOOOOTT) ....
I was Hulking-out my arms for my 7yo photographer hahaha
.... I COULDN'T eat the cake. Because that's what I do EVERY time. And this time HAS to be different. I HAVE to do this. I HAVE to know that I can do this. That I am in control. The cake is not. I am. I will eat the cake, but not today. Today I am only half way to my goal. I will not REWARD myself with cake, because I am not a dog, but I will allow myself to ENJOY my piece of cake once I can prove that I can do this. And that the cake won't take over my entire existence and rip apart my brain with self-loathing and hatred as I spend the rest of the summer unable to leave the comfort of air conditioning because I can't fit into any of my summer clothes.
hahaha I literally cannot financially AFFORD to not to this, because I cannot spare the money for an entire fat-wardrobe for warm weather hahahaha TIME TO GET THIS BOOTY MOVING!!
So. I'm down 4lbs. And shrinking. So now we get back to moving. Because I do love to move.
I have two more birthdays to survive this week (thankfully none of the birthday persons' favourite desserts are my favourite desserts, so I should be okay!) and one road trip, then NEXT Sunday I can cheat for a meal (and eat CAKE), and I'm back in the game!!
Halfway there.... only 7 days to go!
I've got this :-D